We wanted to share three, simple but hot tips *snort* for caring for your plants while you are away for vacation and during the high heat of summer. You've made both a financial and time investment in your plants and it is awfully sad to return home from vacation and find your "babies" have died or are so sickly, they no longer look nice.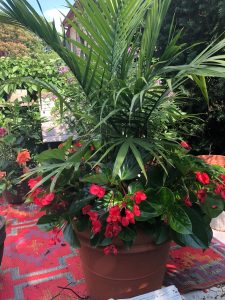 1. Fertilize your plants before you leave. 
Use a slow release fertilizer such as Osmocote or other slow release types because they reduce the risk of fertilizer burn. Give your plants a good "feeding" of fertilizer before you leave as it will arm them against the heat and the likely less water they will receive while you are away.
2. Move all of your plants (even the sun-loving plants) into the shade. 
They will be so grateful not to be baking in the sun while you are gone and it's awfully hard for a plant to stay alive when they are only getting water once a day or every other day.  And that brings us to number 3…
3. Ask your neighbors to come by and water your plants every day or every other day.  It's a great way to meet your neighbors or enhance your existing relationships.  We are a community, right?  You wouldn't mind doing that for your neighbor, would you?
Be nice and write up some simple instructions for them because they will want to do right by you and this will reduce their anxiety over the responsibility of caring for your gorgeous plants.
You might add the phrase "double and triple soak" during these high heat days.
And don't forget them back something lovely from your trip or a nice bottle of something (or a plant) to thank them for their help.
A couple additional tips: remind them not to triple soak the succulents and hearty bushes, like abelia as they do so well with such minimal attention.
If you, like we do, keep your succulents in pots, rather than in the ground, it is super easy to move them into the shade whereas with in-ground bushes, like the abelia, are hearty enough to make it through your vacation with maybe one watering.
We also want to to draw your attention to the many benefits of gardening (indoors and out) The folks at Happy DIY Home just published an updated, comprehensive guide on 25 incredible benefits of gardening, according to science. It is completely free and you can find it here: https://happydiyhome.com/benefits-of-gardening/
Last but not least, when you get home, take a close look at what did well during your absence and what did not and make notes for the coming spring.  You may want to choose more sustainable plants such as black-eyed susans, echinacea, dragon wing begonia, and, of course, succulents and other desert plants (like the desert rose) next year.  (We are flush with some truly gorgeous succulents right now so if you are in the market, holler!)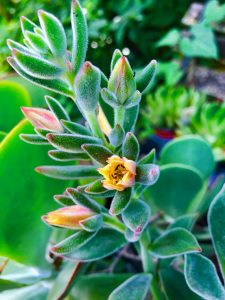 It will save you money on water (and save water which is always a good thing) and ensure your investments in your outdoor living space look fantastic all summer long.
Even when you have had your own summer fun, out of town.
That's it, folks.  And you have packing to do and potato salad to make.  So write up those instructions, make a note to pick up some slow release fertilizer and you are good to go.
As always, we are happy to provide advice via DM on FB and IG or by phone (816) 933 9509.
Safe Travels, Happy 4th of July and Happy Greening.
Yours, as always, in the love of all things green,
Kasey and Morten