The Midwest U. S. is more far more sustainable and forward in both thinking and practice than you might think.
Sometimes other parts of the country they call us "flyover country." You can read the full list of misconceptions about the Midwest along with with a detailed breakdown of the region (East North Central Midwest vs.
West North Central (where Kansas City, Missouri is located). We do have to forgive folks in their confusion that Kansas City is in Missouri and also in Kansas. But we also need the entire country to know that the Midwest has embraced sustainability with fervor as well as design style. Check this out:
I recently had the pleasure of enjoying a guided tour of the Johnson County Community College Center for Sustainability with the Executive Director for the center and Professor of History, Dr. Jay Antle. Antle's specialization is American Environmental History. I first learned about the JCCC Center for Sustainability on the JCCC television station. I caught an hour-plus long documentary on the origin of the center and was truly blown away by the commitment and achievements of Dr. Antle and the team at JCCC. But don't trust me for the data, you can view their dashboard for data on how they reduce their carbon footprint, every day. For example, JCCC has composted 636708.2 lbs of food waste since 2011. That composting practice enables them to save $17,509 in trash costs on an annual average basis.
But their sustainability efforts do not end there. Under Dr. Antle's direction, the JCCC Center for Sustainability spearheads and supports many sustainable projects on campus from the art competition to the Galileo's Pavilion.
Dr. Antle walked me all over campus and led me to the 3,000 square foot building that houses two classrooms, a lounge and exhibition/display space, and was built with a goal of achieving LEED platinum certification. The gray slate that covers the outside of the building is actually recycled chalkboards and the building incorporates energy-saving features as photovoltaic solar panels on the roof; a small, 2-kilowatt wind turbine; LED lighting; sedum rooftop plants and a rain-collecting cistern that are being used to water living walls of plants on the north sides of both classrooms as well as the lounge.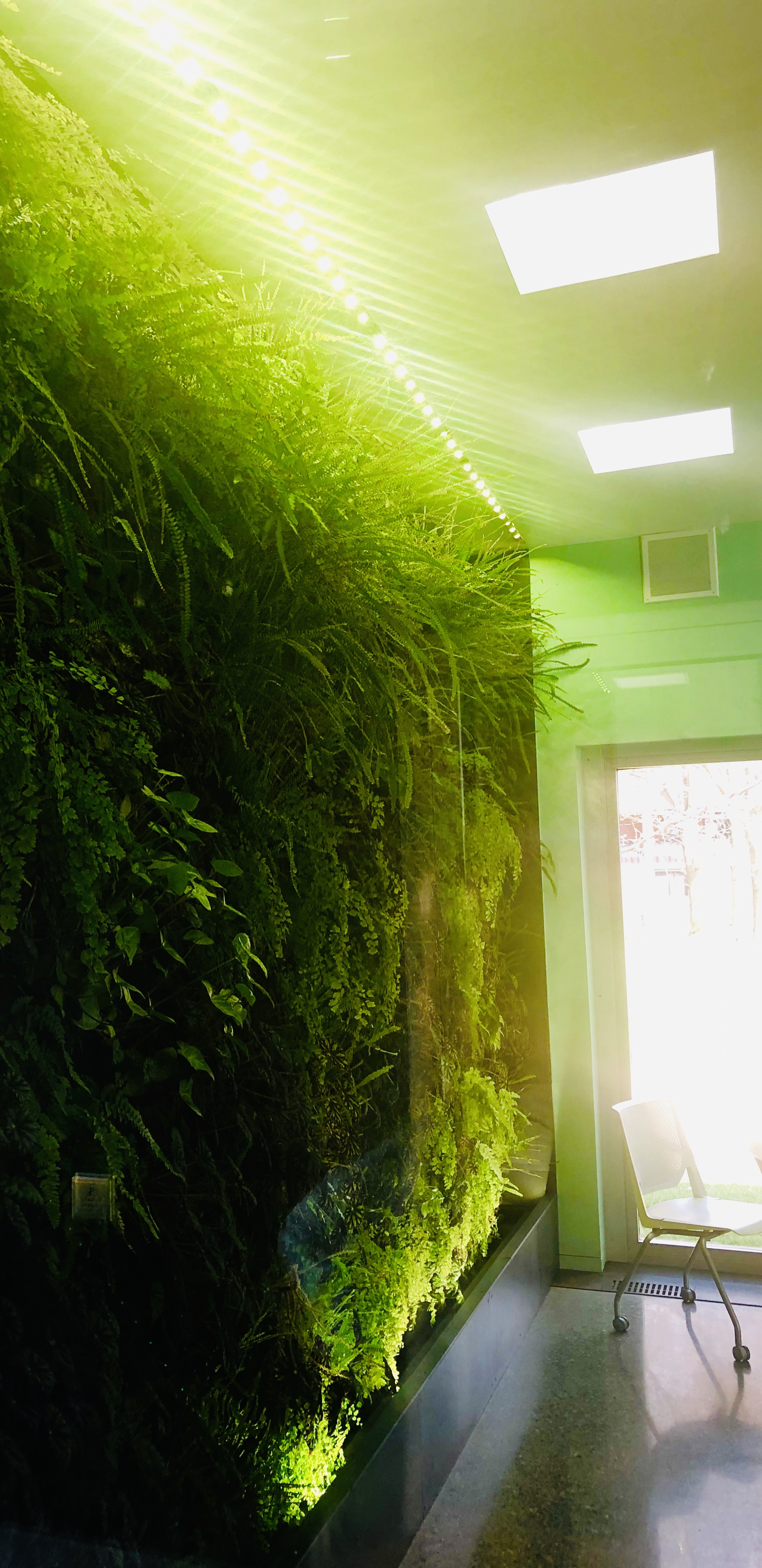 Could not help but wonder why we don't hear more (we all live in our own bubbles in this digital age, don't we?) about the great work Dr. Antle and his team are doing at JCCC and my deep dive into sustainable businesses in Kansas City revealed a number of opportunities and bright companies that exceeded my expectations.
We already work with fellow, eco-minded businesses like HKN Design that uses recycled drum drops to create their own original designs exclusively from exotic hardwood veneers and drum set shells here in Kansas City. Each piece of material is a remnant from the handcrafted wooden shells (handcrafted specifically for drummers and musicians worldwide) and is rife with shell grain patterns the HKN Design meticulously matches for optimal finish and aesthetic appeal.
HKN Design is a team of mother and daughter designing, creating and inspiring. With backgrounds as a professional drummer/graphic designer and architect, they are uniquely skilled and committed to sustainable design. We have worked on a number of collaborations with them and we're very excited to roll out a new lighting design in the summer of 2019.
My deep dive led me to Bridging the Gap, an organization founded in 1992 that (and winner of numerous awards) works to make the Kansas City region sustainable by "connecting environment, economy and community," and providing environmental education and volunteer action through more than 1,500 volunteers annually. Needless to say, we will become members.
I also found Naturally KC is a Kansas City-based naturally minded website, blog, local business directory, and community. In their words, "naturally minded means you are conscious of the products you use, the food you put into your body, and the way that you live. Naturally minded can look different to each individual." Naturally KC, established in 2017, has since morphed into Sage + Frank and the brain and design talent behind Sage + Frank is Brittney Miller and I love her statement:
"I work with determined people who are dedicated to themselves and their business – people have a deeper purpose than turning a profit."

-Brittney Miller of Sage + Frank
The next step on my journey was the City of Kansas City and KC Green and I learned a few things I already knew like, "The City of Kansas City, Mo. takes a view of sustainability which incorporates green programs into a broader triple bottom line approach that simultaneously promotes social equity, economic vitality, and environmental quality."
The City of KCMO also provides tips for green practices for home and office as well as resources and links to publications including Greenability Magazine. Greenability connects readers to greener lifestyle opportunities through news, events, resources, products, services, and ideas. Founded in 2007 as a bi-monthly subscription magazine by publisher Julie Koppen, Greenability transitioned in 2015 to a more sustainable media for connecting with readers.
And remember, we are part of the larger, Midwest Region and to my delight, I found the Midwest Sustainability Summit coming up in June in Cinncinnatti, Ohio. Here's the skinny:
Green Umbrella (GU) is partnered with the City of Cincinnati Office of Environment and Sustainability and the Department of Economic Inclusion, the Brueggeman Center for Dialogue at Xavier University, Hamilton County Planning and Development and the Greater Cincinnati Green Business Council to present a daylong conference to share the latest ideas and best practices in environmental sustainability on a regional level. This year's Summit will look deeper at the issue of resilience while also focusing on environmental sustainability.
"A key initiative of the City of Cincinnati's Green Cincinnati Plan, the Midwest Regional Sustainability Summit inspires a collaborative culture of new thinking and unconventional ideas that pushes change in unexpected ways."
The 2019 Midwest Regional Sustainability Summit will bring stakeholders throughout the Ohio Valley region and adjoining areas to exchange together to discuss and promote best practices, provoke thoughtful discussion, celebrate the work that is currently being done throughout the Midwest. They will also continue to identify models for future regional collaboration that can be replicated throughout the United States. The Summit attracts participation from across the Midwest including Dayton, Louisville, Lexington, Cleveland, Columbus, and Indianapolis. Consider me attracted.
Unlike many conferences and green product shows, the Midwest Regional Sustainability Summit is priced for the average bear with registration starting at just $45 ($15 for students). The keynote speaker is Andrew Winston, author of Green to Gold. There is still plenty of time to register and find someone from the KC area with whom to carpool and share gas.
Last but not least and though the post is from 2018, I love that Rubicon Global put together a list of sustainable small businesses in every state (please do that again this year!). If you don't know Rubicon Global, they are a technology company that powers a digital marketplace, provides a suite of SaaS products for waste, recycling, and smart city solutions, and collects and analyzes data for businesses and governments worldwide.
That's all the news that's fit to print from so-called "flyover country" aka the Midwest Region. Three cheers for all the great, green and sustainable businesses (large and small) because together, we are, making a difference.
As Always, Yours in the Love of All Things Green,
Kasey at The Fat Plant Society