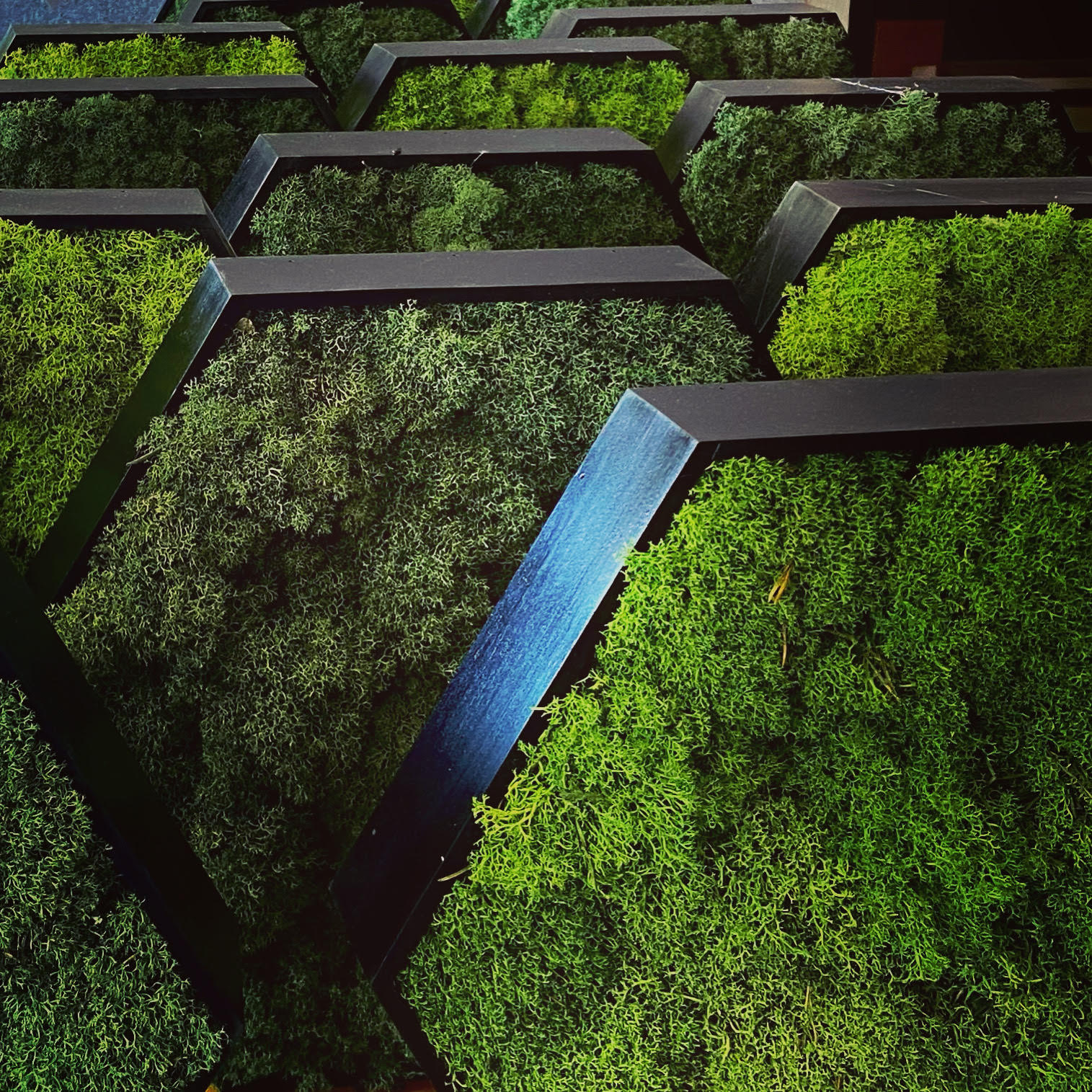 BEYOND AESTHETICS AND INTO REAL, HUMAN EXPERIENCE
Every June, thought and practice leaders in biophilic design gather at the Phoenician Hotel in Scottsdale, Arizona or one of the other gorgeous hotels in the area (2023 to be held at JW Marriott, Scottsdale) to attend HOTEC Design Conference.
Top of mind for hospitality designers now and for the foreseeable future is rife with nature and natural elements. And it's not just for the bragging rights of being "eco-friendly" (for simply not washing the sheets daily) either.
Bill Browning, the managing partner at environmental strategies research and consulting firm Terrapin Bright Green, spoke of "pattern languages" (a method of describing good design practices), and more importantly, he shared this salient nugget:
"We're trying to tease out our experiences that impact us in beneficial ways, psychologically and physiologically, without cultural or gender filters," he explained. "We're trying to find universal responses."

-Bill Browning, Founding Partner of Terrapin Bright Green
But hold on–before we examine why universal responses are a key focus for hospitality design, let's take a moment to praise Mr. Browning for being the thought leader and forward-thinker he is. If it seems like I am gushing, it's because I am—Bill Browning has long been a champion of sustainability and believes wholeheartedly that sustainable practices are what's best for both humanity and the planet. Browning was the recipient of the 2019 Design for Humanity Award and is currently serving on the board of the Buckminster-Fuller Institute (Buckminster "Bucky" Fuller's most well-known work is the geodesic dome but he heavily influenced generations of designers, architects, scientists and artists working to create a more sustainable planet) and that's in addition to Browning's generosity with his time and knowledge that he shares at events and via podcasts (check out the April 2019 interview with Bill Browning on The Edifice Complex).
We discovered Terrapin Bright Green a few years ago and I continue to drop my jaw at the breadth and wealth of superior research that Terrapin Bright Green produces annually. You may have heard of the 14 Patterns of Biophilic Design and that's just one of the brilliant research papers his team produced. Honestly, if you are looking for anything from why biophilic design is here to stay and the myriad of ways it is good for all of us, universally to indoor air quality management, Terrapin Bright Green is your "go-to" resource.
But Bill Browing wasn't the only leader in design at the table, Brian Vickery, senior director of design and construction Europe, Middle East and Africa for Four Seasons Hotels and Resorts shared his thoughts as well and it's his statement that inspired this article:
"The nice thing is there's a movement toward what people want…As a brand, the expectations of guests are leaning toward health and wellness. That means creating biophilic, sustainable and wellness-focused spaces isn't just a sound investment. It's doing the right thing."

–Brian Vickery, Senior Director of Design and Construction, Four Seasons Hotels and Resorts
I would hug Mr. Vickery if I ever have the luxury of meeting him. It is rare to hear biophilic design framed in that way–as "doing the right thing." Frankly, we could not agree more and it is exactly that love of nature and the understanding that sustainable practices matter (for all of us) that spurred us to form The Fat Plant Society.
HOW IT'S DONE
Now that we know it's simply the right thing to do, let's take a closer look at how it's done.
Lobbies
More and more hotels are combining the lobby and front desk with an open bar and/or restaurant and obviously, the hotelier would love for you to stay on-site and enjoy at least one drink in the bar or stay for dinner and there are some sound design practices to encourage that behavior. From introducing biomorphic forms and patterns as core design elements in the lobby to great views that offer not only prospect (stuff you want to see) but also refuge (places where you feel cozy or hyggelig as we say in Danish) and you can read all about how important these concepts are to the hospitality bottom line by downloading the killer research papers by Terrapin Bright Green.
Another key component for hygge (yes, we're allowed to use this word because we use the Danish language daily and there is no real, English word that captures the true meaning) in the lobby that encourages guests to stick around and have a drink and a chat is biophilia (plants and other botanicals, like moss) that aid in optimum humidity levels, reduce volatile organic compounds in the air, and reduce noise. Plus, greenery is awfully nice to look at and admire and can actually help refocus attention.
There are so many gorgeous examples of moss and other botanicals in hotels that it was nearly impossible to choose just a few…
We are, of course, so fond of live plants that require water and food but we also recommend ensuring the budget allows for the maintenance that living plant walls and hanging plants require.
And of course, blurring the lines between the outside and indoors is always a wonderful experience for guests. Porfirio's Restaurant by Filipao Nunes Architects is a glorious example. And this property is an International Hotel and Property Award Winner for 2019 in the restaurant category. We promise it is very much worth the time to view all of the winners of awards in 2019.
Guest Rooms
By now, we are all aware of the eco-friendly practices hotels have adopted to save on water and be more environmentally responsible. We have collected a list of the top eco-friendly luxury hotels and even found a list of hotels that go the extra mile to provide local produce and local eco-recommendations. These are brilliant advances.
Another biophilic option for hotels is, of course, the view of the outdoors from the guest room. I don't think I will ever stop chuckling over the term "partial view" but I do respect that hotels work to be honest and upfront with their guests as the rates vary from "full ocean or mountain view" to "partial view. Guests have long loved a beautiful view and that will not change.
What will change is the way architects and designers look at the construction of the hotel and manage the universal response experience from the lobby to the guest room.
In fact, sustainable travel experiences are becoming the choice for many.  As noted in the Conde Nast article in September:
"Now more than ever, travelers are holding themselves to higher standards of social responsibility as they plan their trips and set forth on their journeys. And while hotels use an abundance of resources, there are many standout properties that are implementing new solutions and utilizing new technologies to make a more positive environmental and social impact."  

-Conde Nast Traveller, "11 Sustainable Hotels That Are Setting a New Standard in Hospitality: From forest protection to solar power, these properties make the planet a top priority."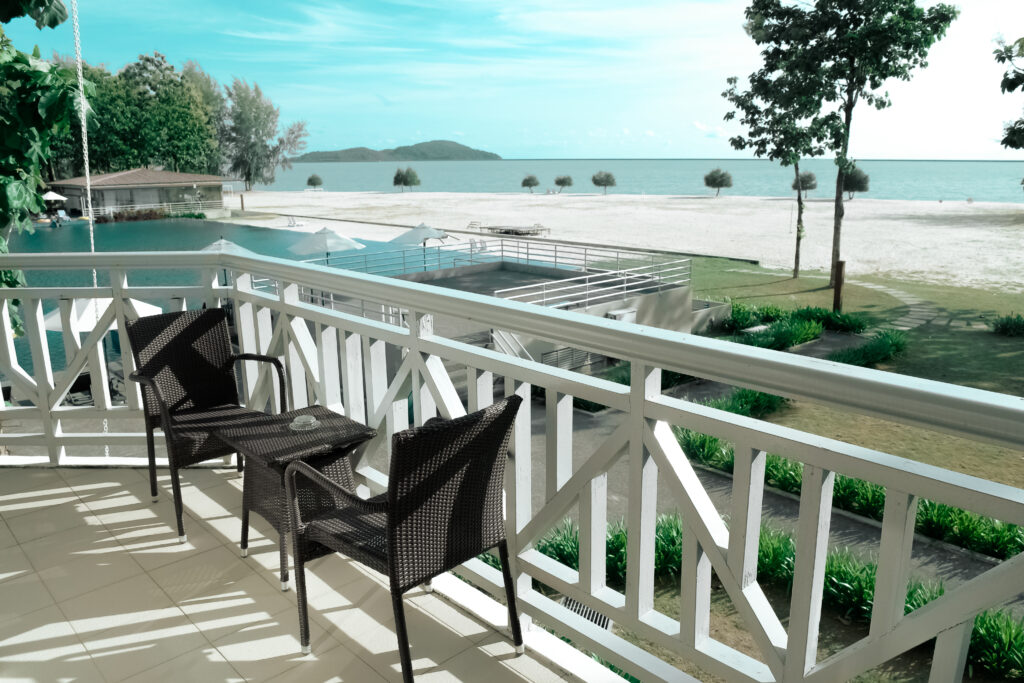 However, (and we've pushed the envelope with a borderline snarky evaluation of hotel art in a previous post) the attempts to provide art and visual design in hotels have often fallen a little short. The frustration lies in what is for us, the obvious call to implement biophilic design elements.
Recall Bill Browning's goal of universal responses. That is a tall order, especially when relegated to paintings and prints. But biophilic design and greenery speak gently and kindly to everyone, regardless of ethnicity, culture, or geographic location.
We price our moss reasonably at just $110-$120 per square foot (below market average) and given that a professionally framed print costs roughly the same amount, why not provide guests with a moss design in their room that will also clean the air and reduce noise?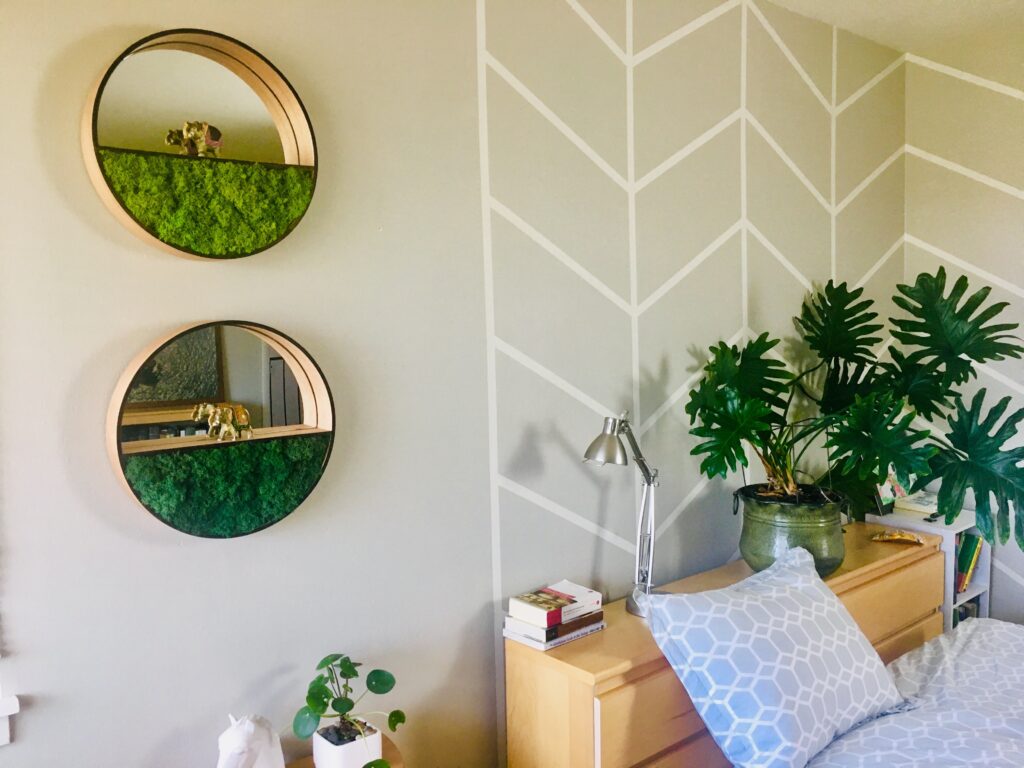 Last but certainly not least, we turn our attention to spas in hotels. We have provided a number of moss walls and designs to spas in our local area specifically for the noise reduction capability and aesthetic appeal.
.Why use plain soundproofing panels when you can create a "wow factor" and reduce noise using real moss that does not require watering or misting, does not live in dirt, and will retain its color for at least ten years? And hoteliers and spa owners can boast that the moss is also absorbing those nasty volatile organic compounds (VOCs) in the air.
To paraphrase Bill Browning, biophilic design elicits a positive universal response. Our clients tell us our moss captures them and once they understand the details and cost-effectiveness of moss (moss walls run roughly 1/3 the cost of a living plant wall and save thousands annually on water and maintenance) we see their eyes start to dance as they let their imaginations run with design options.
We humans need nature.
And now nature is a design tool for hotels.
Guests are embracing biophilic design along with sustainability in design and day-to-day hotel management. 
The guest experience is improving.
Happy traveling everyone.
As Ever,
Yours in the Love of All Things Green,
Kasey & Morten/The Fat Plant Society